Wayne Plumbing Technicians
Trust Our Team's Reputation for Safety
When you invite one of our technicians from Burton's Plumbing & Heating into your home, you want to know you're getting the real deal. Each of our service personnel is required to carry a Technician Safety Identification Card with them when they come to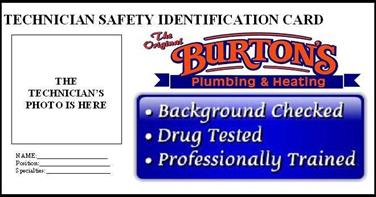 your home. It is our way of ensuring you that we drug test, background check, and professionally train each and every one of them. With an ID card, we make sure we are sending you a highly qualified technician to service all your plumbing needs. Each of them has been trained in a variety of specialties, from kitchen and bath installations to sewer pipe repair. No matter what kind of plumbing service you require, we can always provide you with the right person for the right job!
---
Need plumbing service in Wayne, MI? Call ((734) 292-4349now and schedule your appointment.
---
Reliable Service to Our Community
Our commitment to quality and safety has made us a leader in our industry. We take great pride in sending our customers safe and reliable technicians when they need one, and we train our staff to communicate with our clients beforehand to limit any surprises that could occur. Our technicians are trained to give you a price up front before doing the work so that no matter how long a job takes to accomplish, you'll already know the cost.
With our licensed and insured technicians, you can trust that you're receiving the best service around. Our Master plumbers are ASSE Backflow Prevention-certified and receive ongoing training to keep them on top of their trade. When you have a plumbing issue in Wayne, hire local experts to make sure the job gets done right.
---
Schedule your appointment today by calling (734) 292-4349, or contact us online.
"I've used Burton's plumbing for many years. They're always friendly, knowledgeable, professional. Whenever I've called they been out the same day. They're the only plumbers I trust to be honest and get the job done. They also clean up after themselves so double bonus!! I definitely recommend them."
Ready To Get Started?
Call (734) 292-4349 or Contact Us Below!